It's Saturday and the first week of my residency at Showa is coming to an end. On this visit I have definitely noticed a higher level of performance, both in the private lessons and in the ensemble rehearsals and concerts.  There have been 19 private lessons, most with a focus on solo multi-perc pieces, but also with a fair amount of time spent on the timpani movements in the pieces by French composers with piano accompaniment, for which Showa has also provided professional accompanists.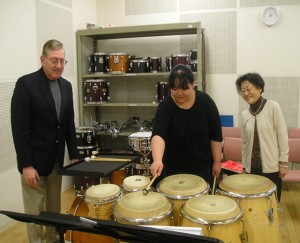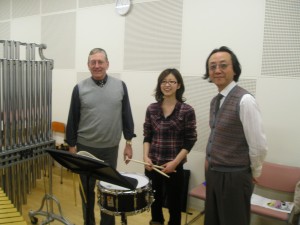 There was an ensemble concert on Thursday night in the small recital hall, with the audience consisting mostly of the percussion department – about 36 students in all.  The program featured large and small percussion ensembles.  A nice arrangement of Schedrin's "Carmen Suite" opened the program. There were several Kodo-style ensemble pieces – including Zivkovic's "Trio per Uno" and "Red Earth" By Christopher Hardy, and a great marimba trio, "Sculpture in Wood," by R.Pawassar, which I have heard at Showa before (and also at Eastman), and which always impresses me as the epitome of writing for the marimba.  All of the performances were impressive and comparable to the level of playing I have heard by the best ensembles at PASIC events.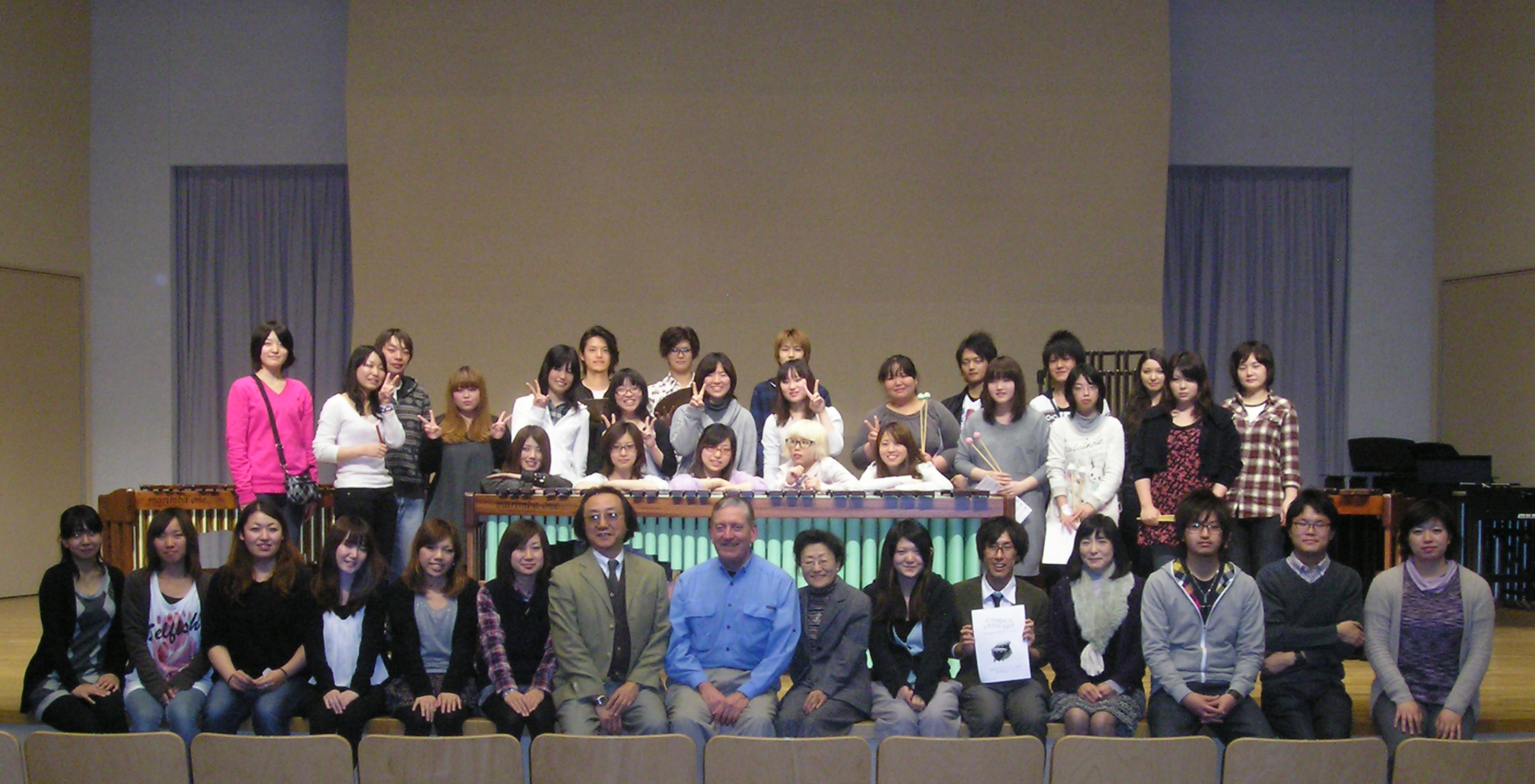 Earlier on Thursday, I had the pleasure of hearing two solo marimba pieces played by Akane, a graduate student I have known since she was a freshman, and who is now teaching in the community division at Showa.  I can't even imagine a more satisfying performance of "Virginia Tate" by Paul Smadbeck.  When Akane asked me for comments, I had absolutely nothing to say.  It's truly amazing how the art of marimba playing has matured, not only at Showa but worldwide.
On Friday Kaz, Yashio and I watched a rehearsal for a ballet performance in the main opera house at Showa.  The dancing was superb.  First, we watched a contemporary piece danced with only an amplified cajon played by the instructor/director.  In the middle of the piece the dancers clapped an abbreviated version of  "Clapping Music" by Steve Reich.  The second piece was danced in classical ballet style to the Tchaikovsky "Violin Concerto", played by a first rate violinist on the Showa faculty and accompanied by 4 electronic organs and a timpanist.  The electronic organs produced sampled orchestra sounds, and I know how difficult it may be to accept this, but it was totally convincing!  I do not exaggerate; I've heard the Tchaikovsky live many, many times, and if my eyes hadn't seen the organists, I would have vigorously debated with anyone trying to tell me that this was not a live orchestra playing.  The sounds – violins, cellos, woodwinds, and even the brasses – whether solo or tutti were natural, with warmth, phrasing, and shaded timbres that would have been expected in any performance by a live orchestra. Amazing!
Today (Saturday) I will be presenting three A/V workshops – "A History of NEXUS," a video which I prepared for the NEXUS visit to Australia in 2006; "The Story of Percussion in the Orchestra," with slides and music from the CD by NEXUS with the Rochester Philharmonic Orchestra; and "Music for a Revolution," a fife-and-drum presentation in which I'll be drumming to the accompaniment of prerecorded fife sounds and narrating during the screening of relevant slides.
Now, onward to week #2.