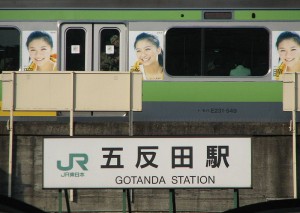 Garry recently posted on YouTube three excerpts from a concert called Super Percussion, presented as part of the Tokyo Music Joy festival in 1988. It was the fourth annual Music Joy festival, produced by Toru Takemitsu and Koinuma Music, and sponsored by the Seibu-Saison Group in Tokyo. The four-day festival was organized around a jazz theme, and also included concerts by Gary Peacock, George Russell, Markus Stockhausen, and others in collaboration with Japanese jazz musicians.
The Super Percussion show featured NEXUS (Bob Becker, Bill Cahn, Robin Engelman, Russell Hartenberger and John Wyre), drumset artist Steve Gadd, Ghanaian master drummer Abraham Adzenyah, and the Korean percussion quartet SamulNori (Kim Duk-Soo, Lee Kwang-Soo, Choi Jong-Sil and Kang Min-Seok). It was performed in the Gotanda Kan-i Hoken concert hall on February 25, 1988, and was recorded live by Nippon Electric Company. NEC later released a 55 minute video of almost the entire concert, but it remained available only in Japan. The present YouTube posts are selections 3), 7), and 9) from that recording. The complete list of repertoire on the video includes:
1) Traditional/arr. NEXUS: Ancient Military Aires (NEXUS, Steve Gadd)
2) Traditional/arr. NEXUS & Becker: African Funeral Song (NEXUS, SamulNori, Abraham Adzenyah, Steve Gadd)
3) Becker: Palta (NEXUS, Steve Gadd)
4) Traditional: Bambaya (Abraham Adzenyah, Bob Becker, Russell Hartenberger)
5) Lent/arr. Cahn: The Ragtime Drummer (NEXUS, Steve Gadd)
6) Green/arr. Becker: Xylophonia (NEXUS, Steve Gadd)
7) Gadd/arr. Becker: Duke's Lullaby (NEXUS, Steve Gadd, Abraham Adzenyah)
8) Traditional/arr. NEXUS: Mbira (NEXUS, Abraham Adzenyah)
9) Traditional: Kpanlogo (NEXUS, SamulNori, Abraham Adzenyah, Steve Gadd)
I was invited to direct the show – a demanding job that involved choosing and ordering the repertoire, as well as organizing and sometimes arranging pieces that involved interaction among the performers. For this show, that included almost every piece, and I sometimes felt more like a negotiator or arbiter than a musician. By this time, NEXUS had already taken part in several of John Wyre's World Drums festivals, which generally featured numerous individual performers and ensembles playing one after another, followed by a mass finale based on a simple groove and dynamic structure. John's approach always resulted in exciting juxtapositions and powerful demonstrations of spontaneous musical cooperation, but also left me somewhat frustrated – I often felt that the great players John assembled were capable of working together on far more elaborate and intricate structures. With only eleven performers involved, I tried to approach the Tokyo concert with more of a chamber music sensibility.
The Japanese producers had initially suggested that we invite Dave Weckl as the drumset artist for the event, but I held out for Steve Gadd because NEXUS knows him personally and had worked together with him several times previously. Nothing against Dave – who is, of course, an amazing player, and who was, at that time, less famous than he is now – but I had known Steve since we were in college together at the Eastman School of Music, and I was very familiar with his incredible sound and style. Plus I was eager to make an arrangement of his piece Duke's Lullaby, which I knew from the second Gadd Gang album. On his recording Steve overdubbed all of the parts himself in the studio, but I wanted to involve NEXUS and Adzenyah in my arrangement as well. Steve was amenable to the idea, and generously taught me the piece, including the complex military bass drum part played by John Wyre on the concert. This version of Duke's Lullaby later became the basis for my piece Away without Leave (recorded on our CD out of the blue and currently published by KPP).
I was also very interested to hear Steve's approach to being the soloist in my piece Palta, originally composed in 1982 as a kind of concerto for the Indian hand drums, tabla. I knew Palta could work well as a vehicle for drumset, and Steve was agreeable to play it. I gave him a recording of NEXUS performing the piece with me playing tabla, and wrote out a basic road map with some suggestions for drumset ideas. What Steve created from that material was monumental, as can be seen and heard on the YouTube clip. Ten years later, in 1998, I rescored Palta for a larger (eight players) ensemble, including piano and electric bass, making it playable by tabla (amplified), drumset, or congas. Palta has been performed by NEXUS with Steve Houghton and with Peter Erskine on drumset, and with Rolando Morales-Matos on chromatic congas. Percussionist Dan Moore recently created an interesting version for snare drum solo with electronics. Palta is published by KPP, and includes solo parts in both traditional Indian tablature and standard drumset notation.
For the finale to the Super Percussion show in Tokyo, I decided to use the rhythmic groove that underlies the West African dance music known as Kpanlogo. All of the performers felt comfortable with this straightforward style and agreed to work within it. Although the introduction that was played alone by NEXUS and Abraham Adzenyah was cut for the NEC video, the remaining part of the piece is intact on the YouTube clip. Steve Gadd's solo over NEXUS' groove on the double bells was one of the highlights of the entire concert. SamulNori's acrobatic dancing brought the show to a tremendous climax.