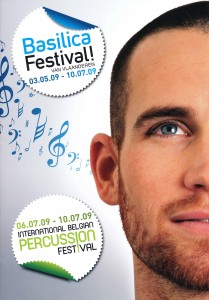 From July 7 through 10, 2009 I was a featured clinician and soloist for the First International Belgian Percussion Festival, held in Hasselt, Belgium. This was a very ambitious event, with a large international faculty. Besides myself, other clinicians included Marinus Komst, solo timpanist of the Royal Concertgebouw Orchestra; David Searcy, principal timpanist with the La Scala Opera; Mike Quinn, percussionist with the Indianapolis Symphony and the Bavarian State Opera; and Norbert Rabanser, lecturer at the Universität Mozarteum Salzburg/Innsbruck. Other soloists included vibraphonist Bart Quartier, and Norwegian percussionist Hans-Kristian Kjos Sørensen, who performed a very demanding recital that included the fastest version of Psappha I've ever heard.
Although I presented five clinics during the week, my principal responsibility for the festival was the preparation and performance of the final concert, which I shared with the Swedish percussion quartet Kroumata. This collaboration had been proposed by the festival organizers – percussionists Gaetan La Mela and Luk Artois – when we met last year at PASIC in Austin, TX. I was intrigued by the idea of working together with the current incarnation of Kroumata (Roger Bergström, Johan Silvermark, Ulrik Nilsson and Pontus Langendorf), especially since I was asked to include some of my own compositions on the concert. After discussing repertoire options with Roger, we settled on the following program:
Becker: Turning Point
Becker: Unseen Child
Becker: Mudra
-intermission-
Xenakis: Okho
Sivelöv: Touché
Becker (arr.): Whispering Medley
Green (arr. Becker): Valse Brillante
Becker (arr.): States Medley
Takemitsu (arr. Becker): Wings
Okho and Touché are part of Kroumata's current repertoire. Touché (2006) is a relatively new quartet by Niklas Sivelöv, a Swedish pianist and composer, while Okho (1989) is Iannis Xenakis' well-known djembe trio. Although I have not performed Okho myself, I have heard it numerous times, and it has always seemed to me to be one of Xenakis' weaker compositions. Kroumata played the piece on wooden cajons, which made it more intimate and rather elegant. At the same time, each performer's position (sitting on the box) and physical demeanor added an appealing theatrical character. I don't know if Xenakis would have approved, but I enjoyed the interpretation very much.
All of my compositions and arrangements on this program are quintets, so they made a natural selection to play with Kroumata. When working together with high-level performers I often find that preparing music can be even more fun than actually performing it. It is fascinating to explore pieces together with new colleagues, particularly when you are the composer. Hearing and appreciating new sounds and gestures, adding nuances, and finally agreeing on interpretations is exciting and very satisfying. I appreciated Kroumata's preparation and commitment to my music for this concert. Playing together with an ensemble of this stature was a wonderful experience, and we immediately began to discuss possibilities for future collaborations.