It's 10/10/10 and I'm in Petersburg, Virginia.  Today I'll be driving to Pembroke, North Carolina for several days of workshops and performances at the University of North Carolina.
Yesterday, I walked through the old town historic area of Petersburg, and though it was a beautiful sunny and mild Saturday, there were literally no people to be found on the streets.  My walk followed a complimentary morning breakfast at my hotel in a lower-level sports bar, in which there were a dozen television monitors blaring, several wide screen digital projections running, bright neon bar signs glowing, and not one person to be seen anywhere – no one behind the bar, no one at the tables, and no one at the 20-foot-long hot buffet, which had several serving trays of corned beef hash, eggs, grits, croisants, cereal, etc.  The breakfast bar was completely unoccupied by anyone other than me, and it remained so throughout my 15-minutes of breakfast.
After breakfast I rode the empty elevator to the lobby, which was also without another soul in sight except for one hotel clerk at the front desk. It was in this almost surreal ambience that I embarked on my morning walk to look at some of the sights in historic (but vacant) Petersburg.  Fortunately, a few antique shops opened at 9 AM and I browsed through stacks of old furniture, including a number of magnificenttall Victorian corner cabinets.  I leafed through stacks of old books and noticed that an unusually high percentage of them were Civil War related.
In fact, the Civil War seems to continue to have an extremely important influence on the local history and sense of identy, particularly since Petersburg and Richmond were really the locations of the final days of fighting.  The Appomattox River, with a name that symbolizes the very end of the war, flows right behind the old town.  The buildings in the old town were impressive, especially the octagonal Farmers' Market located on a wide cobblestone street, and the Brick House Run, which is now an upper-end restaurant.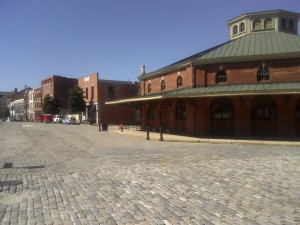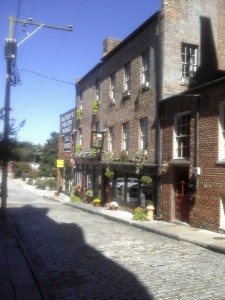 The rest of Petersburg was largely in a run-down condition, though there were still some  marvelous scattered Civil War era houses to be found, and it was clear that efforts were being taken to revitalize the old town historic area.
Today (10/10/10), however, I'll be driving past numerous fields of white cotton along I-95 in North Carolina towards Pembroke, which is only about 20-miles north of the famous "Pedro's South of the Border" at the South Carolina state line along I-95.