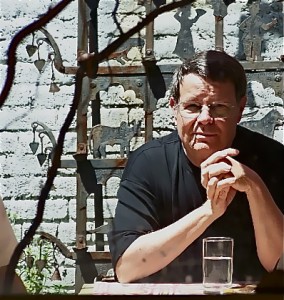 By now you will have seen Robin Engelman's blog post announcing that he will be leaving NEXUS. As you can imagine, it has been an emotional week. As a founding member of the group, Robin has been with NEXUS since the very beginning, and his wife Eleanor was the group's administrator for decades, too.
NEXUS performed last Saturday at MacMillan Theatre here in Toronto with the University of Toronto Wind Ensemble, presenting the Canadian premiere of Eric Ewazen's new commissioned work for NEXUS and wind ensemble, The Eternal Dance of Life. What a moving and expansive work! It makes the heart soar. We were privileged to have Eric here in Toronto for the event. He spoke to the audience about the work, its inspiration and creation, and about the fascinating process of writing for what he called "the unusual and exciting sonorities of NEXUS". The performance showed both NEXUS and the U of T Wind Ensemble at their best under the able baton of conductor Gillian MacKay, and the audience was on its feet at the conclusion. NEXUS gained many new fans that night, and delighted those of us who already knew them.
Two evenings later, the group performed solo in Walter Hall, presenting Steve Reich's two extraordinary works, Music for Pieces of Wood, and Drumming Part 1. Also on the program was Russell Hartenberger's delicate arrangement of Spiegel im Spiegel by Arvo Part, and Brian Nozny's challenging arrangement of John Cage's Chess Pieces, that began as a painting by Cage with sixty-four squares filled with music written by Cage. I was happy to have the opportunity to hear NEXUS' new Gordon Stout commission once again, the beautiful Prelude: Winter Song. NEXUS' Bill Cahn warmed things up with The Birds (some hundred and fifty bird calls!) and his exciting piece Kebjar-Bali finished the evening. Those of us closely involved with NEXUS knew this was Robin's final performance, and it was fitting that his was the final note of the final piece, a firm precise double-stop that was perfection.
While we will miss Robin's performing, we look forward to his continuing presence on the NEXUS website and in the world of percussion. He will continue to post his interesting articles here as well as updates on his music activities, his multi-media History of Military Instruments, and his compositions. We have no intention of losing track of him!  NEXUS itself is looking forward to its 40th Anniversary Season, with upcoming events this season and next, here in Ontario, Canada, as well as in Japan, in several locations in the southern United States, and with a number of North American symphony orchestras. Check back often for updates to our events schedule!
In the meantime, we send our very best wishes to Robin and Eleanor as they enter this new next phase. Both of them have been crucial in the creation, development, and successful longevity of NEXUS. Salut!