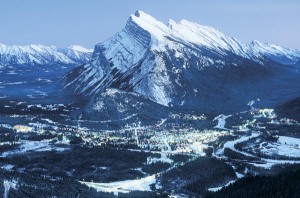 Bob Becker has recently returned from a week-long percussion residency entitled "Roots and Rhizomes" at the Banff Centre for the Arts in western Canada, where he was a faculty member. It got me thinking about the several NEXUS/Banff connections.
For example, NEXUS's Bill Cahn has also been a faculty member at the Banff Centre, for the "Music and Sound" resident artists programs in 2003 and 2005. Russell Hartenberger, Robin Engelman, and John Wyre were all on faculty in various capacities over the years including the National Youth Orchestra faculty, and Russell, John and Bill performed at Banff's Broadcasters' Convention in June of 2000. One of the earliest NEXUS "encounters" in Banff was their performance in 1988 as part of the "World Drums" concerts at the Calgary Winter Olympics Arts Festival.
Arguably the most significant connection between NEXUS and Banff is the honour that was bestowed on NEXUS when the Banff Centre presented the group with the 1997 Banff Centre of the Arts National Award. The award recognizes those who achieve much in their own careers, contribute significantly to the development of their art form, and encourage and train the next generation.  NEXUS shares this honour with past music recipients that include Lois Marshall, Harry Somers, Glenn Gould, and R Murray Schafer. The award consists of $10,000, the Donald Cameron Medal, and a residency and a recording opportunity at the Banff Centre.
We are looking forward to getting NEXUS out to Banff once again on their next Western tour. Western Presenters – Take Note! And drop me a line if you would like to be included in our future Western plans. (Use the comment form below).
The June "Roots and Rhizomes" program in which Bob participated was a first for Banff: an all-percussion residency. It was directed by Steven Schick (author of "The Percussionist's Art: Same Bed, Different Dreams"), and the other faculty members were Aiyun Huang and Anders Loguin.  I found a couple of great  posts about "Roots and Rhizomes" in artist Victoria Gibson's blog.  Go have a look. She describes the mountainside solstice concert where Varese's "Ionisation" and Xenakis' "Persephassa" were performed as well as the premiere of the new John Luther Adam's percussion piece "Inuksuit", and writes evocatively of the "drums and conch shells echoing through the mountain air…" Another new work was also premiered, this one by Mark Applebaum, which included a movement where the percussionists drew shapes with black markers on large easels and the resulting sound was amplified to create the percussive sounds of the piece. Pauline Oliveros was also in Banff, and her composition "Meditation on a Single Stroke Roll" (composed for NEXUS in 1973) as well as the input from the participants in the "Roots and Rhizomes" residency inspired Ms Gibson to complete her own piece, "The Incredible Delicacy of Silence" for percussion quartet. Go check out her blog here and here to read more.