It has been said that professional careers consist of three distinct phases: 1) the acquisition of skills from the preceding generation; 2) the application of the acquired skills in the chosen profession, and; 3) the passing along of those skills to the next generation.  Each phase has its rewards, and one of the most satisfying aspects of the third phase is the opportunity to interact directly with others in the first phase, thereby closing the circle.  I have just finished my second day of this kind of interaction with students in the percussion department at Rowan University in Glassboro, New Jersey.  I am here at the invitation of Professor Dean Witten, whom I have known as a good friend and colleague since the 1970s, when he was a student at the Eastman School of Music.
My residency at Rowan consists of four kinds of interactions with the students: three ensemble rehearsals, one masterclass, one lecture/clinic, and one final gala concert.  This kind of interaction enables participants to share in the increased flow of ideas made possible throughout the world by the ongoing communications revolution – information through the internet, access to products from world trade, and direct access to people and places through travel by jet aircraft.
The theme, if it can be called such, of this residency is the involvement of the Rowan percussion students in performing my compositions:
– works for percussion ensemble
"Time Traveler", "Night Ride", "Rosewood Dreaming", and "Kebjar-Bali"
– works for marimba ensemble
"Balalaika", "La Negra", and "Yes, We Have No Bananas"
– works for solo, unaccompanied percussion
"Quatrille", "Afrodditty", and "Partita"
For a musician who composes, the only other thing that is possibly as satisfying as hearing your own music being performed is to also hear others talking about your music.  Even better is to talk to others yourself about your own music and not have them flee immediately for the nearest door.  All of these satisfying activities have occurred in plentiful portions over the last two days, and prospects are pretty good for more of the same over the next two days, so I'm a pretty happy camper.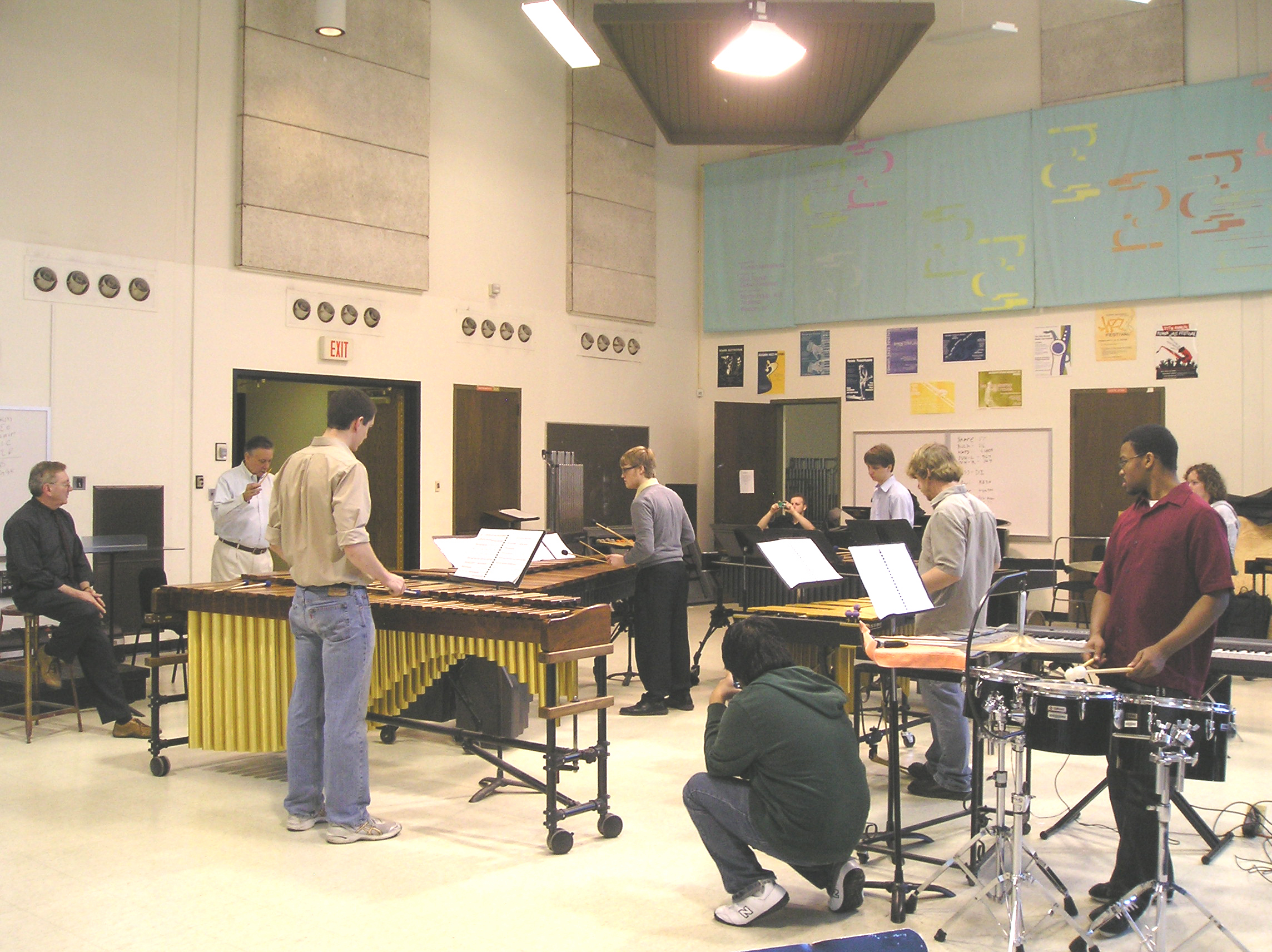 The Rowan Percussion Ensemble rehearsing "Rosewood Dreaming"