The Woodstock Chimes Fund produces the Drum Boogie Festival every other year. On September 7th of this year (the 10th anniversary of the Boogie), we held the daylong festival here in Woodstock and it was absolutely amazing. The weather was perfect and the music outrageous (Paul Winter, Jack DeJohnette, NEXUS and many more). We had the largest crowd of people of all ages we've ever had (5,000+/-) and the food/art vendors were wonderful. I'll write more about our festival soon.
Meanwhile, another festival held here in Woodstock every year at this time is the famed Woodstock Film Festival, celebrating its 20th year. Diane and I attended the opening night for the showing of The Apollo, which chronicles the past 85 years of the legendary music theater in Harlem. What an exciting film! You can see The Apollo on HBO November 8th.We also attended the showing of Tareq Benbrahim's exquisite documentary entitled Simon Shaheen: A Musical Journey, featuring the renowned oud player Simon Shaheen who teaches at Berklee College of Music in Boston and has created a legacy of prominent students through the years. Following the film, Simon (oud and violin), Firas Zreik (kanun) and Tareq Rantisi (hand drums) performed live to an ecstatic audience. These are some of the world's greatest musicians.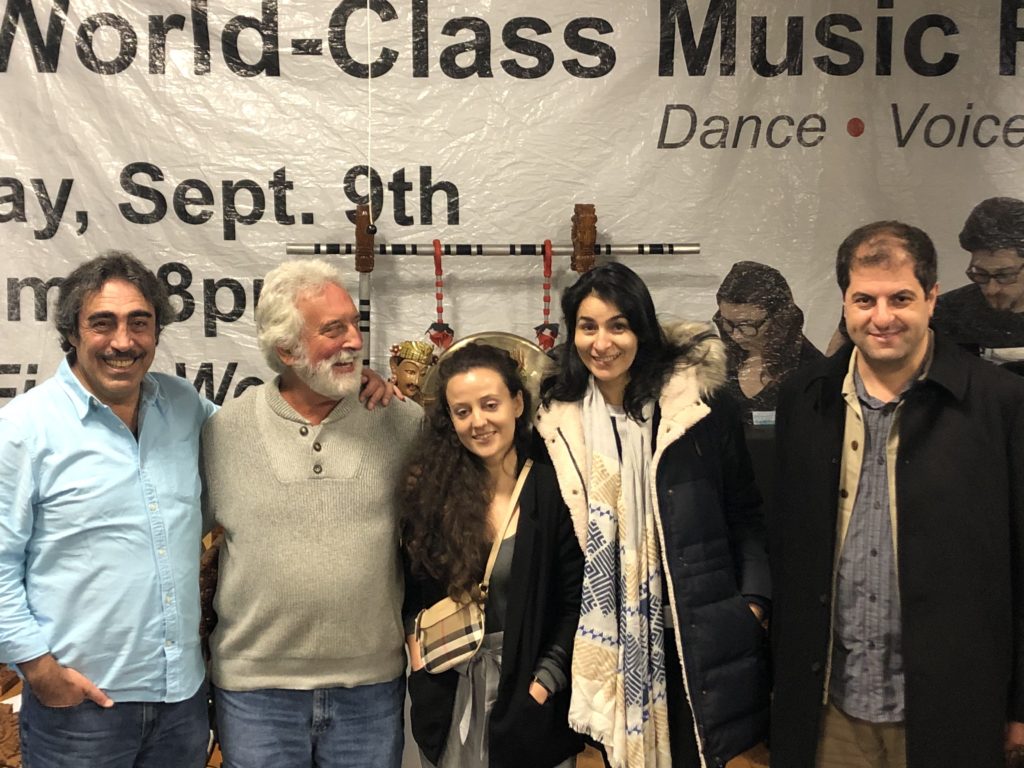 The next day Simon came to my studio for a visit. Simon had been a featured artist in our 2013 Drum Boogie Festival, where we had first met. He brought the filmmaker Tareq and his wife, Fatima, along with composer/pianist Moira. Simon's music is based on the Arab music system known as Maqam. I had produced a Woodstock Chime called the Chimes of Persia many years ago, tuned to one of the modes of this system, which includes musical intervals that don't exist in the modern Western musical system. Simon recognized the sound immediately.
I played a short piece for them by Harry Partch on an instrument I built that is also tuned to a non-Western scale. I then played a large instrument for them I call the "vistaphone." It is tuned to 32 notes of the natural harmonic series, ranging from a seven-foot tube to a 5-inch rod. The tour continued with the sounds of several gongs and tam-tams from my collection and many mechanical musical instruments. One of these mechanical instruments was a reproducing (player) piano on which I played George Gershwin's own roll of Rhapsody in Blue and one of Conlon Nancarrow's performances of his original music. It's always fun to show off these mechanical instruments, especially to people who really appreciate creative music and the genius of the builders of these antique gems.
I hope you'll get a chance to see this film and to hear a live performance of Simon's someday. It's a special treat to be exposed to music on this high of a level from other musical cultures like his.