I think we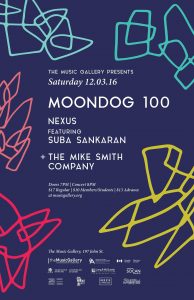 should just call November 30 to December 4 "NEXUS Week" and be done with it! Here in Toronto NEXUS will be deeply involved in a symposium under the auspices of the Jackman Humanities Institute called "Reich, Rhythm, and Repetition: Patterns in Music, Speech, and Science", being held at the University of Toronto on Nov 30, Dec 1 and Dec 2. The symposium will include lectures and lecture-demonstrations that will bring music and physics together in some very interesting ways. On Dec 3rd NEXUS will be a part of New York street musician Moondog's 100 birthday at The Music Gallery, where we will be joined by Suba Sankaran and will share the stage with The Mike Smith Company to celebrate Moondog's unique talent. And speaking of unique talent, as an added soupçon de NEXUS , Gordon Stout has told us that his percussion ensemble at Ithaca College will be performing Bill Cahn's new piece "This World" on the evening of Dec. 4th. (NEXUS premiered "This World" at Percussion Rochester in May 2015 with soprano Katherine Ciesinski.) 
Here are some more details about the Symposium:
On the evening of Nov 30, 6 pm at the Fields Institute, 222 College Street, Garry will give a FREE lecture/demo, "Pitch to Rhythm", discussing the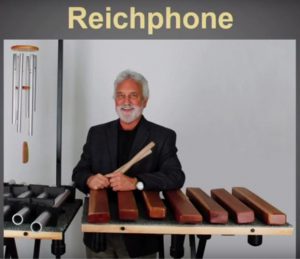 natural harmonic overtone series and its connection to rhythm and cross-rhythm patterns. To demonstrate, he will perform Mallet Phase on his "Reichphone", which is tuned in just intonation. Fields is an Institute for Research in Mathematical Sciences, an international centre for scientific research in mathematical sciences at U of T. As well, physicist Stephen Morris gives a lecture-demo on Making Sound Visible, (also at the Fields). He will show the beautiful patterns that vibrations create – Ernst Chladni in 1786 invented a method of visualizing the vibration of plates by sprinkling powder on them. This led to several advances in both mathematics and acoustics!
On December 1st from
12-2pm at  Walter Hall, Russell along with Kathy Armstrong will talk about Rhythmic Patterns in West African Drumming and the music of Steve Reich, and NEXUS will demonstrate with "Drumming, Part 1" by Reich, and Russell's new piece "Birth of Time" that features 3 vocalists (Kathy Armstrong, Christine Duncan, Suba Sankaran). At 3pm (Room 130) Garry will reprise his "Pitch to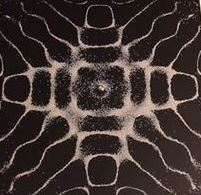 Rhythm", and at 4pm, Dr Morris will discuss the science, art and wonder of self-organizing rhythmic patterns.
                        On December 2nd
at 5 pm (Walter Hall), you will have another opportunity to hear Garry and Russ perform Mallet Phase, NEXUS perform "Birth of Time", and Bob and Russell with Midori Koga and Gregory Oh give the Canadian Premiere of Steve Reich's "Quartet" (pianos and vibraphones).                  
                         And the next day (December 3rd) we all go over to The Music Gallery to celebrate Moondog! We look forward to seeing you there!