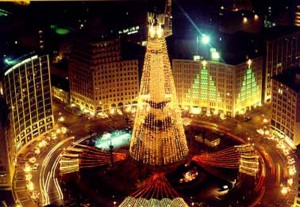 If you have been following us on Facebook, you will know that the NEXUS members are heading to Indianapolis for the 2013 Percussive Arts Society International Conference.
Russell Hartenberger is going to be on the World Percussion Committee's panel along with B. Michael Williams, Shawn Mativetsky, and Michael Spiro with Neeraj Mehta as "referee".
Bill Cahn is presenting a 50-minute clinic titled "Percussion Accessories – Lessons I was Never Taught." The clinic will be an interactive discussion/demonstration on standard orchestral small percussion instruments and their sound characteristics – cymbals, triangle, tambourine, wood block, tam tam/gong, castanets, bongos, congas.
Bob Becker is presenting a Showcase concert featuring never-published transcription arrangements of George Hamilton Green's performances with some of the major recording ensembles of the era, including the All Star Trio and the Green Brother's Novelty Band, and two of the greatest pianists of all time – George Gershwin and Frank Banta. Check out Bob's interview in the PASIC'13 Preview issue of Percussive Notes magazine, and his blog post. The concert will also have commentary and visual projections by historian Ryan Lewis. A short tour will follow (details in Bob's posting).
NEXUS Recording Engineer and Business Manager Ray Dillard will be part of PASIC's first-ever "Technology Day" on November 13, the day BEFORE the conference-proper begins. His presentation will be about "Recording Percussion (And More) on a Budget".