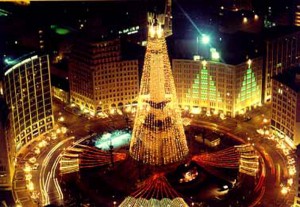 The NEXUS and 2X10 concert last week in Toronto was wonderful. Bill Cahn's hypnotic new arrangement of Takemitsu's From me flows what you call Time opened wide skies of sound. The two ensembles took us from the world premiere of Alice Ping Yee Ho's elegant Heart to Heart, through the Canadian premiere of Steve Reich's fabulous "Dance Patterns" to the exciting Reich "Mallet Quartet". It was a great evening. Now the NEXUS members are off to Indianapolis to participate in the biggest percussion event in the world from November 9 through 12. PASIC (The Percussive Arts Society International Convention) is celebrating its 50th anniversary this year, and will feature over 120 concerts, clinics, master classes, labs, workshops, panels and presentations.
One of the 50th Anniversary Concerts will be given by the Bob Becker Ensemble presenting the Percussion Music of Bob Becker . This will be a Keyboard Showcase Concert. The ensemble consists of Bob and fellow NEXUS member Bill Cahn, along with Chris Norton and Gordon Stout (who wrote a lovely piece for NEXUS in 2009 entitled Prelude – Winter Song). At the PASIC concert, Bob's ensemble will be joined by guests
Yurika Kimura and Jamie Marie Jordan.
Bill Cahn will also be the narrator for the "Emeritus" session. A section of retired all-star orchestra percussionists will perform selected orchestra repertroire – what a great idea! Bill's wife Ruth Cahn, will be moderator of a Symphonic panel entitled Symphonic Sounds/Genesis Teachers. Among the illustrious panelists will be NEXUS member Russell Hartenberger as well as John H. Beck, Vic Firth, Gary Werdesheim, and Mark Yancich. Ruth will also be on the panel of the Education discussion Creating Lifelong Percussionists, moderated by Josh Gottry , joined by other who's-who panel members Lalo Davila, Peter Erskine, Ginger Zyskowski, and Paul Buyer. (Peter Erskine performed with NEXUS, Hugh Marsh, and Liam Teague at the Cool Drummings! Festival in 2007. Liam is busy at PASIC this year too, in several different settings).
Our NEXUS business manager, Ray Dillard is is giving an Education presentation called Technology FUNdamentals: A low-cost approach to high-quality recordings. We are lucky to have Ray looking after all the NEXUS logistics with one hand while engineering the NEXUS recordings with the other. He's done 17 titles with NEXUS so far! He is one of the most widely known figures in the percussion recording industry. His credits include Grammy and Juno nominated projects with artists and ensembles from the United States, South America, Europe, Japan and Canada.
So, take up thy sticks and mallets and get thee to Indianapolis!