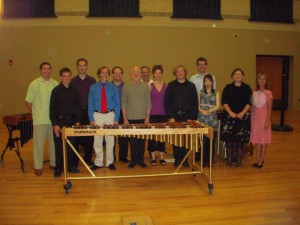 The tenth anniversary session of the Bob Becker Ragtime Xylophone Institute was held from August 2 through 7, 2010 at the University of Delaware in Newark, DE. This year's participants, left to right in the photo, were: Mike Correa, Paul Bernard, Dwayne Corbin, Chris Hogan, Ryan Lewis, Bob, Harvey Price, Julia Ross, Mike Franklin, Sam Livingston, Yurika Kimura, Jane Boxall and Linda Henderson.
This summer's class was especially strong, and the final concert featured fine performances from everyone. As always, the full concert program of sixteen pieces was well attended by local fans of ragtime music. Most of the repertoire was presented in our usual fashion, with marimba ensemble accompaniments provided by the students, Harvey Price and myself. This year we also were able to take advantage of the wonderful piano skills of Harvey's wife, Linda Henderson, in two pieces. One was Harry Breuer's arrangement of Scott Joplin's classic, Maple Leaf Rag, titled Joplin on Wood, with Jane Boxall playing the solo. The other was my own composition, Cottontail Capers, with Yurika Kimura playing the solo. Although I have arranged and performed music in the ragtime and novelty styles of the 1920s for many years, it is my first composition in this form. Yurika had played the piece previously in Japan, but since this was its first performance in the US it was a North American premiere. The piece was composed originally for xylophone solo with piano accompaniment, however I also made a four-marimba accompaniment version. In Delaware, we combined piano with bass marimba to create the accompaniment, and both Yurika and I agreed it was the best sound for the piece.
Percussionist and scholar Ryan Lewis was part of this year's class, and so we again were able to benefit from his comprehensive research into the life and music of George Hamilton Green. Ryan gave an outstanding lecture detailing Green's early family life, his musical career in Omaha, Chicago and New York City, and his many surprising extra-musical activities. This year UDel percussion professor Harvey Price also organized a one-week jazz vibes workshop, which ran concurrently with the xylophone institute. Teachers David Friedman and Tony Miceli drew a large class of very dedicated students. Mid-week we all got together to perform a few things for each other. There were a number of wonderful jazz trio performances – vibes, bass and drums, as well as an extended solo by David Friedman. From our side came an exciting performance of my arrangement States Medley by Yurika Kimura, a hot version of G. H. Green's Log Cabin Blues by Chris Hogan, and my own offering of my solo marimba arrangement of Red Norvo's Dance of the Octopus. Following all of that was an enjoyable round-robin jam on the blues in F.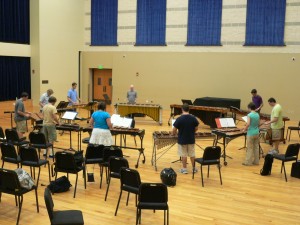 Next summer's ragtime institute is scheduled to run from August 1 through 6, 2011, and there again will be a jazz vibes session at the same time. For more information click here, or contact Harvey Price at hprice@udel.edu. I hope to see you there!