On May 24 I again joined forces with Peter Soave, She-e Wu and the Northwestern University Percussion Ensemble, this time at the new Pritzker Pavilion in Chicago's spectacular Millennium Park. Besides the Frank Gehry-designed pavilion itself, the park contains Anish Kapoor's magical polished steel sculpture, Cloud Gate.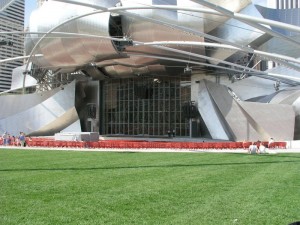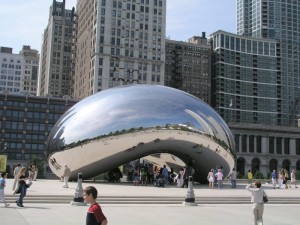 Just before our rehearsal, I was surprised to see University of Iowa professor Dan Moore and his students waving to me from the side of the stage. As it turned out, they were in town to play their own steel band concert the next day, and so decided to stop by. Charles Owen, former principal percussionist with the Philadelphia Orchestra often remarked that you never know who is in the audience, no matter what the venue, so always play as if Eugene Ormandy is sitting in the first row. It's good advice for any performer.
For this concert, we more or less reprised our April concert program (previously performed in Pick-Staiger Concert Hall), this time with the addition of Astor Piazzolla's famous Libertango played by all of us together. As always, it was wonderful to work together with the Northwestern students, and She-e somehow managed to keep everything running smoothly throughout the day.
It became rather cold (and windy, of course) downtown near the lake shore, so keeping warm was a concern for both the audience and the performers, especially as the evening wore on. Being essentially an outdoor venue, the Pritzker Pavilion's acoustics depend on an elaborate sound system, which boosts the sound in the seating area directly in front of the stage, and also broadcasts it further outward to the large grassy lawn behind (remarkably, with no hint of delay). Although the audio techs were experts, the difficulties of miking and amplifying keyboard percussion instruments were evident. It was a challenge to play the xylophone and vibraphone in an acoustic environment where the sound I was hearing was disembodied from the instrument under my hands. Fortunately, I got used to it by show time, and we had a very enjoyable concert heard by several thousand people.