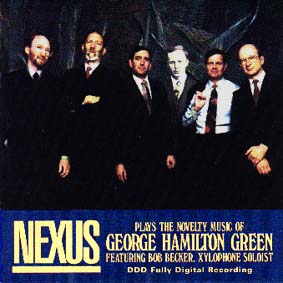 Nexus Records 10273
Featuring Bob Becker, Xylophone Soloist
---
Fluffy Ruffles (2:31) G.H. Green/Cahn /music/Fluffy.mp3
Rajah (3:16) G.H. Green/Becker
Frivolity (2:59) G.H. Green/Cahn
An Indian Story (2:59) G.H. Green/Becker
Valse Brillante (6:28) G.H. Green/Becker
Chromatic Fox-Trot (3:12) G.H. Green/Becker
Dotty Dimples (2:46) G.H. Green, V. Arden/Cahn
Keep Movin' (3:42) G.H. Green/Becker
The Humming Bird (3:22) G.H. Green/Becker
The Ragtime Robin (2:32) G.H. Green/Becker
Spanish Waltz (4:20) G.H. Green/Becker
Charleston Capers (2:33) G.H. Green/Becker
---
CREDITS
Recorded in 1986 at McClear Place – Toronto
Except for The Ragtime Robin, the arrangements heard on this disc have never been recorded before. The dates of the compositions themselves span George Green's spectacular career as a recording artist for virtually all of the major record companies of the acoustic era (which lasted until the introduction of electric microphones in the late 1920's). The various styles comprise the most popular dance forms of the notorious 'roaring twenties'.
The magnificent instruments heard on this recording rank among the finest of their kind and represent the 'golden age' of the marimba and xylophone in North America:
Deagan Imperial Marimba No. 64, ca. 1916
Deagan Marimba-Xylophone No. 4724, ca. 1926
Deagan Marimba No. 54, ca. 1936
Deagan Nabimba, ca. 1906 (courtesy Garry Kvistad)
Deagan Artist's Special Xylophone No. 264, ca. 1919
Deagan Artist's Special Xylophone No. 268, ca. 1916
Deagan Song Bells No. 102, ca. 1920
Deagan 'Roundtop' Glockenspiel No. 1230, ca. 1920
Kori Bass Marimba, ca. 1984 (courtesy Custom Music Company)
Of special interest is the sound of the rare Deagan Nabimba, an instrument manufactured for a brief time which made use of buzzing membranes in the resonator pipes. The characteristic sound of this instrument, which can be heard in the trio of Rajah and throughout Spanish Waltz, imitates the wonderful piquant timbre of the famous marimbas of Central America. Also very rare is the Deagan Artist's Special Xylophone No. 268, a mammoth five-octave instrument. The low range of this xylophone, featured in An Indian Story and The Humming Bird, produces a unique and mysterious sound.