Announcing . . .
NEXUS
Bob Becker, Bill Cahn, Robin Engelman, Russell Hartenberger, Garry Kvistad
NEXUS FEATURED ON NEW NAXOS CD
'the high priests of the percussion world' (New York Times),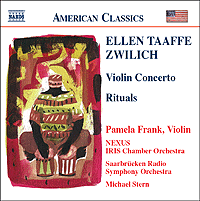 Naxos CD# 8.559268. (52² 02³)ZWILICH: Violin Concerto, Rituals for five Percussionists and Orchestra.
Pamela Frank (violin), NEXUS, IRIS Chamber Orchestra, Saarbrücken Symphony Orchestra, Michael Stern, conducting.
'This is one highly enjoyable disc, enthusiastically recommended! NEXUS and the IRIS Chamber Orchestra members play magnificently as they build to a frenzied, exhilarating conclusiona total delight ' Classics Today
Rituals for 5 Percussionists and Orchestra (2003) " 27²
5 Perc. soli; 2 2(E.H.) 2(B.Cl.) 2(Cbsn.) – 4 2 2 1; Str.
Premiered March 6, 2004, by NEXUS, with the IRIS Chamber Orchestra, Michael Stern, Conductor; Germantown, TN;
Available from Presser
Movements:
¢ 1. Invocation
¢ 2. Ambulation
¢ 3. Remembrances
¢ 4. Contests
'The percussive palette is extraordinary'Rituals' creates a parade of exotic imagery inspired by the Japanese finger bells and temple bowls, gongs from Thailand, drums from Africa and much more. Nexus, the only ensemble in the world prepared to handle this piece, dances sharply on top of the orchestra's quickly changing musical surface. The array of percussionone of the more eye-catching stage arrays in recent memorybrings magic of the world. . .' Commercial Appeal (Memphis, TN)
NEXUS burst on the scene in 1971 with an entirely improvised concert, capturing the attention of audiences and colleagues in a way that continues to excite listeners at all levels of musical understanding and in all genres of percussion music to this day. NEXUS has appeared with top orchestras throughout the US and Canada, from the Los Angeles & New York Philharmonics to the Chicago, Boston, and Toronto Symphonies, at international jazz & arts festivals, and on tour in Europe, Australia, New Zealand, China, Japan, Taiwan, Singapore, Brazil, Scandinavia, and North & South America.
'Rituals is more ˜modern' in compositional style, the oriental sounds produced by tuned percussion set against a slow moving backdrop, the opening Ritual progressing to a jazz inspired and rhythmically strong finale. Throughout the playing of the percussion group, Nexus, and the accompanying chamber orchestra is of that high quality such little known music requires if it is to establish a world market.' (September 2005)
Ellen Taaffe Zwilich has earned an international reputation for producing music that is at the same time recognisable, yet different.  She creates pieces that are peculiarly American and that combine craft and inspiration in reflecting the composer's optimistic and humanistic spirit.  Born in Miami, Florida, Zwilich studied at the Florida State University and the Juilliard School where her major teachers were Roger Sessions and Elliot Carter.  She is the recipient of numerous prizes and honours, including the 1983 Pulitzer Prize in music, the Elizabeth Sprague Cooledge Chamber Music Prize, the Ernst von Dohnányi Citation, the Arturo Toscanini Music Critics Award and many others, including four Grammy nominations.
NEXUS
'In matters of color, nuance and dynamic range, NEXUS offers a stunning virtuoso spectacle. Even more astonishing is the depth of musicianship and superiority of ensemble these five virtuosos brought to bear.' (San Francisco Chronicle)
The IRIS Chamber Orchestra was founded by conductor Michael Stern and since its inaugural concert in September 2000, it has received unanimous public and critical acclaim.  A vital part of the mission of IRIS is the support of American Music through commissioning and recording.