TOUR WRAP-UP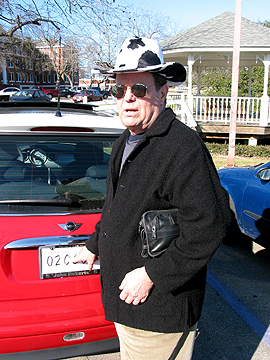 Robin Engelman, your tour guide . . . in Texas no doubt!
It is certainly a display of favoritism to pick one or two performances among all we heard as being special, but for this reviewer, two students must be mentioned.
Stephen F. Austin freshman Kevin Rice's performance of Etude #35 from Portraits in Rhythm by Anthony Cirone would be a worthy clinic in technique and musicality for any snare drummer and University of Wisconsin, Madison, Sarah Devore's stunning display of musicality in PRELUDE No. 1 by Ney Rosauro will not be forgotten.
Well, O.K., the three Northwestern University students who played RAIN TREE on a week of rehearsals! Â Actually, there were simply too many fine examples of the percussive arts to mention. Â One never tires of hearing the music of young people.
On Sunday the 10th, Nexus performed its solo concert in Madison at the Mills Hall and the next morning returned home.
OUR NEXT TOUR:
Check out these dates. In March and April NEXUS will play concerts and/or conduct master classes and clinics at:
University of Missouri in St. Louis, Missouri – March 17th.
Ball State University in Muncie, Indiana – March 19th and 20th.
University of Notre Dame in South Bend, Indiana – March 22nd and 23rd.
University of Arizona, in Tucson, Arizona – March 28th – 30th.
Concordia College in Moorhead, Minnesota – April 2nd to 5th.
University of Minnesota in Minneapolis, Minnesota – April 7th and 8th.
NEXUS friends Lauren Vogel-Weiss and Ron Weiss dropped in on our tour.