WEDNESDAY, JANUARY 29,
STEPHEN F. AUSTIN STATE UNIVERSITY, NACOGDOCHES, TEXAS
This was a tour for meeting new friends and renewing old acquaintances.
'NEXUS – we really enjoyed having you all here. I have heard nothing but positive remarks from other faculty, students and the community at large about the concert. We were also able to bus in over 200 local High School students, which apparently is a new record for an instrument specific concert like yours. Thanks again.
Scott H. Harris, Director of Percussion.'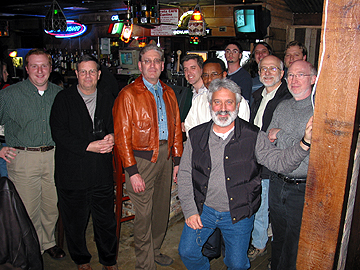 Nexus Master Class:
Four Verses for Timpani by Murray Houliff
Verses 1, 2 and 3 – performed by Senior Chris Bailey
Two Movements for Marimba by Toshimitsu Tanaka
Movement 1 – performed by Junior Dustin Sheffield
Two Mexican Dances by Gordon Stout
First Dance – performed by Junior Dirk Wheeler
Portraits in Rhythm by Anthony Cirone
Etude #35 – performed by Freshman Kevin Rice
BOB BECKER PRESENTED A XYLOPHONE WORKSHOP.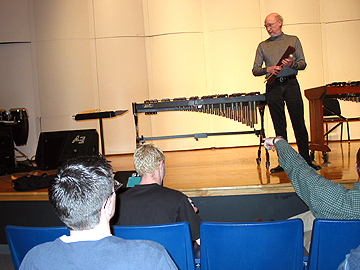 RUSSELL HARTENBERGER PRESENTED A WEST AFRICAN WORKSHOP.